Tell Congress: Oppose The Iran Nuclear Deal!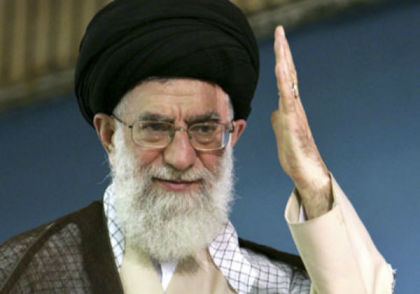 President Obama and Secretary of State John Kerry have made a nuclear deal with the deceitful nation of Iran.

This deal poses an imminent threat to the safety and security of American and Israeli citizens.

President Obama's Iran deal rewards Iran's terrorist regime by lifting sanctions, allowing continued nuclear development, and provides no effective means of oversight over Iran's nuclear program.

Beyond the threat to America's national security, the Iran deal endangers our greatest ally in the region, Israel.
President Obama leaves office in 18 months, but the next President will have to deal with the repercussions of this deal, including the very real possibility that Iran will acquire nuclear weapons.

Additionally, every Member of Congress who votes for the deal will have to answer for it every time Iran steps out of line in the future.

Recent poll numbers indicate that 57 percent of the American people oppose the deal and 58 percent believe it will make the world less safe.

Iran is not a nation we can work with peacefully and rationally.

Intelligence officials have stated that documents captured in the raid on Osama bin Laden's compound include information on Iran's relationship with al Qaeda over the past two decades.

This information includes details of Iran's support for al Qaeda's attacks on Americans. These documents should be made public immediately.

There is no greater threat to American and Israeli security than a nuclear Iran.

Sign the petition if you agree Congress should oppose the Iran deal!
Public Comments
Aug 31st, 2015
Someone from Houston, TX signed.
Aug 31st, 2015
Van G. from Bradenton, FL signed.
Aug 31st, 2015
Tim V. from Mannington, WV signed.
Aug 29th, 2015
Hal B. from New York, NY signed.
Aug 28th, 2015
rita l. from Grant, FL signed.
Aug 27th, 2015
Someone from Snoqualmie, WA writes:
I find myself signing a variety of petitions lately about this issue. Please stand with us to block the Iran deal, which is a bad deal, we can and must do better. I'm signing because… I care about my country and the values of Liberty and Freedom that have been the beacon to our world and model of the best and most abundant nation our world has ever seen. And I want you to stand and defend with us these values to pass on to the next generations of Americans and free peoples everywhere not just a gesture of hope, but a place where those dreams can be realized and a people who will stand up against tyranny and hostile demands. And because I took an oath years ago to serve my homeland, its values and my fellow citizens and I seek to do so with care where ever I can. I can at least speak up now. And also because I believe any nation that holds American hostages should not be dealt with or get one iota of help or relief until all those hostages are returned home unharmed to their families where they belong. May God bless and lead us, Sincerely,
Aug 27th, 2015
Someone from Marthaville, LA writes:
That is the same as signing our own death warrant!!!!!! Can't believe anyone would do this to us in the USA.
Aug 27th, 2015
Christine E. from Carle Place, NY signed.
Aug 27th, 2015
Christine E. from Carle Place, NY signed.
Aug 26th, 2015
Kayla K. from Des Moines, IA signed.
Aug 25th, 2015
jared l. from Lakewood, WA signed.
Aug 25th, 2015
Gordon B. from San Diego, CA writes:
It's a bad deal for the US.
Aug 24th, 2015
RUTH H. from Davenport, FL signed.
Aug 24th, 2015
Someone from Greensburg, PA writes:
I believe that Israel is America's friend and should be of utmost priority in their relationship with America and in our efforts to protect and align ourselves with them.
Aug 23rd, 2015
Someone from Gastonia, NC writes:
Who in their right mind would agree to a deal without full disclosure of the deal? Only our president and our congress who were elected to represent the people of this country. It's about time they started listening to the people. You are pushing us too far!
Aug 23rd, 2015
Someone from Newbury Park, CA signed.
Aug 23rd, 2015
Someone from Quinlan, TX writes:
Come on America get a grip before it's too late
Aug 23rd, 2015
Patricia T. from Blairsville, GA signed.
Aug 23rd, 2015
Drew N. from Annville, PA writes:
If President Obama and our government officials think that Iran and the IS will let us alone,they have another thing coming. Some times I wonder if our so called president isn't behind or working with the terrorists. In my 48 years on this earth, I have never seen a president in this country bow down to a certain group of people, tell us not to "offend" anyone because its not "politically" correct. Our president and congress should stop worring about offending and start doing something real to protect our nation and the nation of Israel. If our government would turn back to God and follow His instructions in the Bible, our nation would be blessed by God instead of being punished. As for our president, I think he should have been Impeached .He has abused his so called "executive" power to appease others and him self, either in this this country or outside of it. Wake up America! Oppose the Iran deal, turn back to God Almighty and do your best to follow His son Jesus. Sign this petition and tell our government that this is a grave mistake. America will suffer if this "deal" takes place.
Aug 23rd, 2015
Christina N. from Franklin, NC writes:
That the legislature allowed this to happen is criminal. Stop allowing this lawless president to walk all over you. Stand up & do something.
Aug 22nd, 2015
Someone from Brooksville, FL writes:
Why are we handing power over to these radical countries? Obama has destroyed our World Standing and given in and protected everything involving Muslims!! WHY?
Aug 22nd, 2015
Philip S. from Pottstown, PA signed.
Aug 22nd, 2015
roberta t. from Cape May, NJ signed.
Aug 22nd, 2015
Margaret F. from Lake Isabella, CA writes:
They will certainly turn this into a weapon of mass destruction.
Aug 21st, 2015
Douglas B. from Twin Falls, ID signed.
Aug 21st, 2015
Daniel S. from Gulfport, MS writes:
We do not support Iran Deal and say stop it now.
Aug 21st, 2015
Donald L. from Jeannette, PA signed.
Aug 21st, 2015
Steven S. from Independence, KS signed.
Aug 21st, 2015
Howard and Margaret S. from Auburndale, FL signed.
Aug 21st, 2015
Barbara G. from Hopewell Junction, NY signed.
Aug 21st, 2015
Someone from Shawnee, OK signed.
Aug 21st, 2015
Ginger A. from Floresville, TX signed.
Aug 21st, 2015
Rita W. from Littleton, CO signed.
Aug 21st, 2015
jerry b. from Minneapolis, MN signed.
Aug 21st, 2015
Someone from Panama City Beach, FL signed.
Aug 21st, 2015
george r. from Springfield, IL writes:
There should be no deals with Iran. Let them chant we didn't fool America. The only deal we will make ,Inspectors can come and go as we please. No side deals. Since Iran wont let the inspectors do there job. In which Iran can inspect themselves, that's idotic. let Obama look like a fool..Not the UNITED STATES
Aug 21st, 2015
Someone from Lehigh Acres, FL signed.
Aug 21st, 2015
Nancy S. from Live Oak, FL signed.
Aug 21st, 2015
James H. from Green Cove Springs, FL signed.
Aug 21st, 2015
Someone from Owensboro, KY signed.