Tell Congress: Oppose The Iran Nuclear Deal!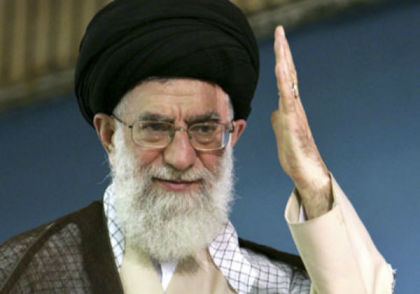 President Obama and Secretary of State John Kerry have made a nuclear deal with the deceitful nation of Iran.

This deal poses an imminent threat to the safety and security of American and Israeli citizens.

President Obama's Iran deal rewards Iran's terrorist regime by lifting sanctions, allowing continued nuclear development, and provides no effective means of oversight over Iran's nuclear program.

Beyond the threat to America's national security, the Iran deal endangers our greatest ally in the region, Israel.
President Obama leaves office in 18 months, but the next President will have to deal with the repercussions of this deal, including the very real possibility that Iran will acquire nuclear weapons.

Additionally, every Member of Congress who votes for the deal will have to answer for it every time Iran steps out of line in the future.

Recent poll numbers indicate that 57 percent of the American people oppose the deal and 58 percent believe it will make the world less safe.

Iran is not a nation we can work with peacefully and rationally.

Intelligence officials have stated that documents captured in the raid on Osama bin Laden's compound include information on Iran's relationship with al Qaeda over the past two decades.

This information includes details of Iran's support for al Qaeda's attacks on Americans. These documents should be made public immediately.

There is no greater threat to American and Israeli security than a nuclear Iran.

Sign the petition if you agree Congress should oppose the Iran deal!
Post Public Comments
Public Comments (3,189)
Oct 18th, 2019
John C. from San Diego, CA signed.
Jul 17th, 2019
kathleen l. from castle rock, WA signed.
Jan 10th, 2019
Michelle B. from Fontana, CA signed.
Jul 3rd, 2017
paul h. from watauga, TX signed.
Nov 7th, 2016
Mary Jo M. from Falmouth, KY writes:
Obama has continued to undermine our safety and future as a Republic. The sanctions were placed there for a reason and Iran is no ally to the US and never will be. Unfortunately, it is my belief that Obama knows that and his intentions over this issue as well as others makes it apparent that Obama is doing everything possible to undermine our survival
Oct 19th, 2016
Susan H. from Melbourne, FL writes:
We are shooting ourselves in the feet and knees and.....
Jul 15th, 2016
thomas w. from Longview, TX signed.
May 6th, 2016
elizabeth c. from Torrance, CA signed.
Mar 13th, 2016
Lt Dg L. from Harpers Ferry, WV signed.
Dec 21st, 2015
Jimmy F. from Rockdale, TX signed.