Attorney General Loretta Lynch Must Appoint A Special Counsel To Investigate The Hillary Email Scandal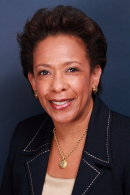 Trust in government is at a horrible low point and for good reason.

In July, Citizens United called on Attorney General Loretta Lynch to appoint a special counsel to investigate Hillary Clinton's troubling email allegations.

Democrat political appointees in the Obama Administration can't be trusted to run an independent, unbiased, and thorough review of allegations surrounding someone who could very well be the Democrat nominee for President of the United States.

Furthermore, Attorney General Lynch has a personal conflict of interest in this matter since she was first appointed United States Attorney by President Bill Clinton in 1999.

Lynch's predecessor Eric Holder had a similar opportunity to appoint a special counsel during the IRS political targeting scandal, and he chose to keep that investigation under his control, which continues to raise questions to this day.

Today, Attorney General Lynch is confronted with another politically charged investigation.

Only an impartial special counsel can investigate these allegations in a way that will restore a level of public trust in this Justice Department and our federal government.

Attorney General Lynch has an opportunity to transcend politics and move this investigation outside of the Justice Department by appointing a well-respected special counsel with credibility on both sides of the aisle.

Sign our petition if you agree! Make your voice heard today!
Post Public Comments
Public Comments (669)
Jan 10th, 2019
Michelle B. from Fontana, CA signed.
Sep 10th, 2018
Cathy S. from Mulberry, IN signed.
Aug 16th, 2018
Someone from San Francisco, CA writes:
Aug 16th, 2018
yiltgprr s. from San Francisco, CA writes:
Oct 1st, 2017
Richard S. from Huntington Beach, CA writes:
This must happen. Revolution
Nov 4th, 2016
Tom M. from Brevard, NC signed.
Oct 20th, 2016
Andrew B. from Minneapolis, MN signed.
Oct 7th, 2016
Mark N. from New Baltimore, MI signed.
Sep 11th, 2016
Someone from Midlothian, TX writes:
Attorney General Lynch must appointment a special consul or perhaps it would be safer if Congress appointed one to investigate Hillary Clinton's readable emails, the ones that were erased after being subpoenaed to show them. Whatever is left of the bleached emails . Then Lynch ad Comey should step down. It is obvious to the American people that they cannot be trusted.
Sep 8th, 2016
Someone from Antioch, CA writes:
Loretta Lynch should be ashamed of her self for promising to uphold the constitution and she is not.