Defend President Trump!
Stand Up And Be Counted!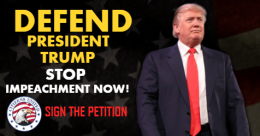 An unhinged pack of liberal Democrats has taken control of the House of Representatives and they have made a partisan witch hunt of President Trump their top priority.
The Democrat "subpoena cannon" has been loaded and pointed at the White House.
After eight long years in the political wilderness, these radical House Democrats have taken things straight into the gutter.
Their crazed base wants impeachment at any cost, as do some of their biggest donors, so Congressional Democrats have set their sights on orchestrating the most disgusting political smear campaign in American history.
If you thought what they did to now-Supreme Justice Brett Kavanaugh was a horrible low point, just you wait.
Democrat committee chairmen Jerrold Nadler of New York, Adam Schiff of California, and Elijah Cummings of Maryland will try to take down this presidency by any means necessary.
These Democrat chairmen and their staff are not interested in legitimate fact-finding, nor are they interested in fairness, protocol, or the truth.
The only truth is that they've already decided on the outcome: impeachment.
If you're a loyal supporter of President Trump and his successful conservative policy agenda, it's time to stand up and be counted.
Our President needs steadfast defenders and he needs them now!
Sign our petition. Stop Impeachment Now!